Since launching #GoodFoodCardiff to celebrate the positive things happening around food during this pandemic, we've been overwhelmed with the response and wanted to share some of the stories here. If you would like to share your story you can submit it here.
We were inspired by Eileen's journey to a slow, sustainable and happy lockdown life.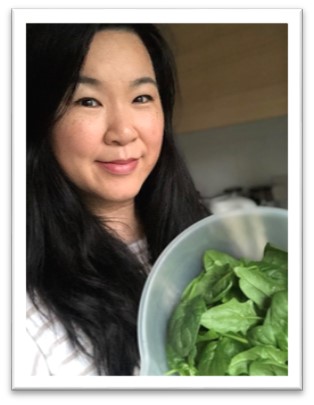 My name is Eileen. I'm a Compliance and Strategy Manager in central government. I live with my husband and two children.
Before lockdown; life was busy. I was rushing out the door in the morning to get my children to school; getting to work; getting to meetings; fitting in social lunches; then picking up the children from school and taking them to their extracurricular activities. It often meant eating on the go and not making the right healthy choices.
Lockdown has made The Wongs slow down and realise we don't need much to be happy and we are learning to live a more sustainable life.
What lessons have you learned during lockdown about living a more sustainable life?
We have been afforded more time as a family, so we have been looking for new ways to entertain ourselves, look after our mental health and learn new skills.
I've always liked the idea of being a gardener but I'm nervous around bugs and don't like getting dirty.  My garden was bare and lifeless. But as COVID19 continued to interrupt our lives and buying fresh vegetables was difficult at the beginning of lockdown, I decided to start growing our own. My children wanted to help as well so it was great to be able to do something new with them (and hoping they'll eat more vegetables if they grew it themselves!)
As we didn't have many plant pots, we reused egg boxes and fruit punnets as seed trays. My children and I had no idea how many seeds to sow but we had fun guessing. Within a few days we noticed little flecks of green amongst the dark soil. We were so excited and continued to check on our "veg babies" daily. I had no expectation of anything germinating let alone now having an abundance of lettuce, spinach and peas.  I've made some very simple tasty meals with my own produce which the family enjoy, like this Noodles with Teriyaki King Prawns and Mangetout peas.
The sense of achievement from growing our own food has also boosted my mental health.  I wanted to grow more variety.
I was unable to buy seeds as lockdown continued and these were out of stock online but remembered seeing a social media post about growing vegetables from scraps! Perfect! I have been drinking celery juice daily as a morning detox (not the most appetising but feeling the benefits of better digestion) so I have lots of celery stems that were going to waste. Not anymore. I was amazed to see how quickly the celery started growing by placing them in shallow water in a container. I've moved them to a soil foundation, and they are growing beautifully. I even tried this with spring onions too with the same success.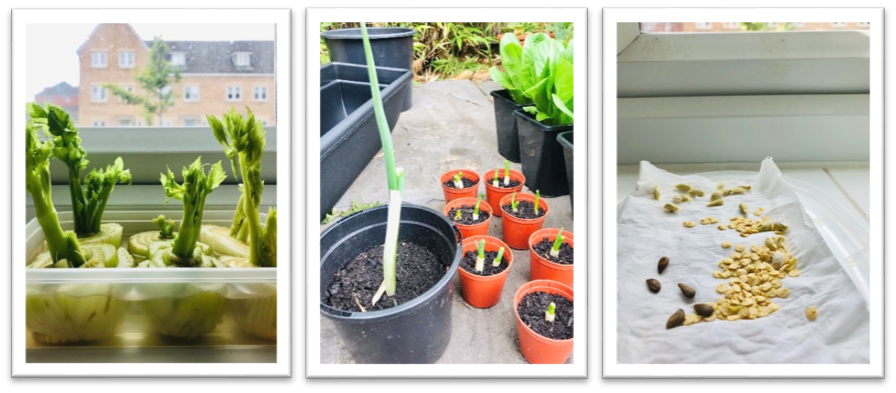 My new self-sustaining "experiment" is drying out apple, lemon and pepper seeds and hoping these produce seedlings!
I never thought I would enjoy gardening as much as I do and I am now the proud owner of a vegetable patch.

I still don't really know what I'm doing but I'm having fun with my children (although I haven't managed to convinced my son to try any vegetables).
What are you looking forward to post-lockdown?
I've learnt that I need to find some time to nurture my mental health so that I can look after my loved ones and growing my own food is definitely part of my health tool kit now.
I'm hoping that when we return to some kind of normality, I'll have an abundance of fruit and vegetable plants to contribute towards Coed Glas Primary School's Edible Playground project where my children attend and I'm a school governor at.  The Edible Playground which will offer a lively, engaging, multi-sensory way to teach children about growing and eating healthy food. Aside from the physical health benefits that eating well brings, learning in an outdoor environment combats Nature Deficit Disorder and has been shown to increase mental health by boosting mood, confidence and self-esteem. Furthermore, allowing the children to connect with nature develops attentiveness and self-reliance in the pupils, leading to more sustainable behaviours in the long term.