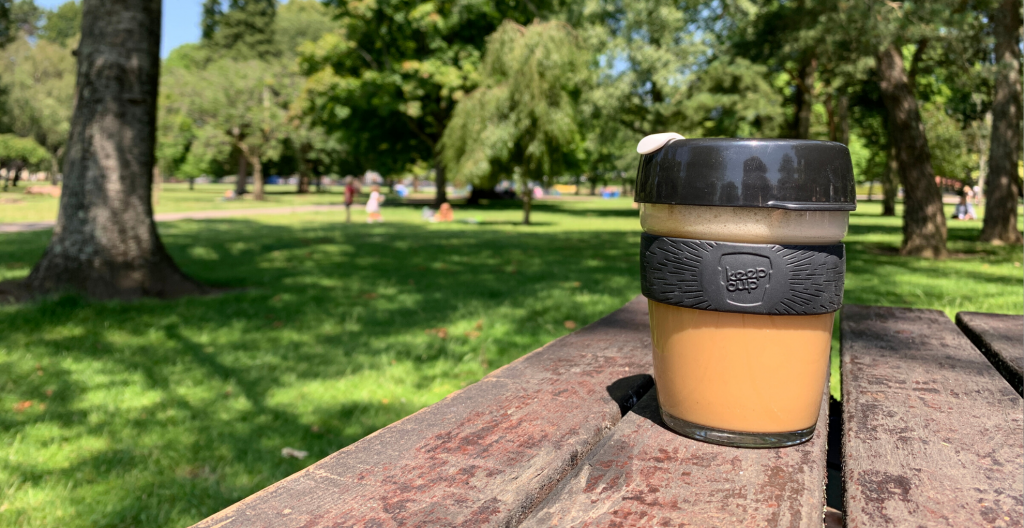 A group of local, independent coffee shops and restaurants has teamed up to promote #ContactlessCoffee and encourage the safe and hygienic use of reusable coffee cups as lockdown restrictions lift.
Pettigrew Bakery & Tearooms, Bloc Coffee, Brodies Coffee, Dusty Knuckle and The Little Man Garage have all pledged to accept reusable cups again as they reopen, and to offer discounts and special offers to the customers who use them.
The campaign is based on an initiative from City to Sea, the award-winning organisation turning the tide on single-use plastic. They recently launched the #ContactlessCoffee campaign, which began as a pilot in Bristol, with a short video that showed cafes the latest best practice for accepting reusable cups safely.
4 Steps to a Contactless Coffee
Reusables CAN be used safely and accepting them doesn't have to be complicated – in fact it can be super simple!
Customers place their clean reusable cup (lid off) on a designated tray and steps back two metres.
The barista takes the tray with the customer's cup over to the coffee machine, extracts the coffee into a normal crockery cup or espresso cup, and steams the milk, as required.
Without touching the customer's reusable cup, the barista pours the coffee and milk into the customer's cup (no latte art!), takes the tray back to the till and steps back two metres.
Customers enjoy coffee in their favourite reusable coffee cup and reduce the prevalence of single-use cups – high five!
Any business in Wales can join the initiative by checking out City to Sea's online resources, accepting reusables and by using the #ContactlessCoffee hashtag.
Cardiff businesses committing to #ContactlessCoffee
Upon seeing the video on social media, a group of local Cardiff businesses got talking over Twitter and agreed it was time to bring the movement to the Welsh capital.
Jo Morley, Head of Campaigns at City to Sea said: I'm thrilled to see Cardiff businesses take up the baton in Wales, helping the public choose to reuse and reduce the amount of packaging that may end up littering our streets, parks and beaches."
David Le Masurier, co-owner of Pettigrew Tearooms and Bakery, said: "Brilliant Coffee is vital to the success of our business and in lockdown 'grabbing a coffee with your daily bread' was a little taste of normality for many. We saw Covid-19 instantly halt all the progress in change of behaviour towards reusable cups, so it's great to be part of the rallying call to keep reusables coming in Cardiff."
Jane Cook, who writes local sustainable food blog HungryCityHippy, said: "It has been distressing to see the rise in single use during the pandemic, but City to Sea's video clearly illustrates that accepting reusables is both easy and safe. I am really excited to be able to enjoy takeaway coffee from my local independents in a sustainable way again."
Other businesses across Cardiff who have indicated on social media that they are accepting reusables post-lockdown include Mec Coffee in Castle Arcade, and Wild Thing vegan café in Grangetown. The campaign is also being supported by Cardiff's first zero waste shop, Ripple Living, based in Roath.
Reusables and safety
Jo continued: "Safety is quite rightly the number one priority for all of us right now, and it's understandable that cafes may be considering only offering single-use coffee cups when they re-open. However, no one material is guaranteed to stop the virus. That's why the World Health Organization and other health authorities continue to emphasise that washing our hands and sanitizing surfaces are still the best things we can be doing."
2.5 billion coffee cups are used and thrown away each year in the UK – enough to stretch around the world roughly five and a half times, irreversibly damaging our environment and polluting our oceans.
Government guidance advises "the individual business to decide whether they allow the use of reusable cups or containers during this period", so City to Sea want to support businesses in making the right decision by providing them with relevant guidance and support.
Over 115 health experts from eighteen countries signed a statement this week assuring retailers and consumers that reusables are safe during COVID-19, pushing back on claims made by the plastic industry. The health experts emphasize that disposable products are not inherently safer than reusables and that reusable systems can be utilized safely during the pandemic by employing basic hygiene.