Introducing #GoodFoodCardiff stories! Since launching #GoodFoodCardiff to celebrate the positive things happening around food during this pandemic, we've been overwhelmed with the response and wanted to share some of the stories here.
Our next #GoodFoodCardiff story is Chloe. Whilst helping write and edit the new Covid-19 food information hub pages, Chloe has been cooking lots and discovering new local suppliers.
I'm Chloe. I have always enjoyed inspiring people how to cook and sharing ideas in a fun interactive way. I enjoy cooking for friends and family of which I am sadly unable to do at the moment, however I am experimenting with lots of dishes ready to share when we will be able to meet again!
Cooking up a storm
The last few weeks I have had the opportunity to cook and enjoy meals at a much slower pace. Here are just some examples of the meals I have been cooking; pasties, bread, cakes and simple meals.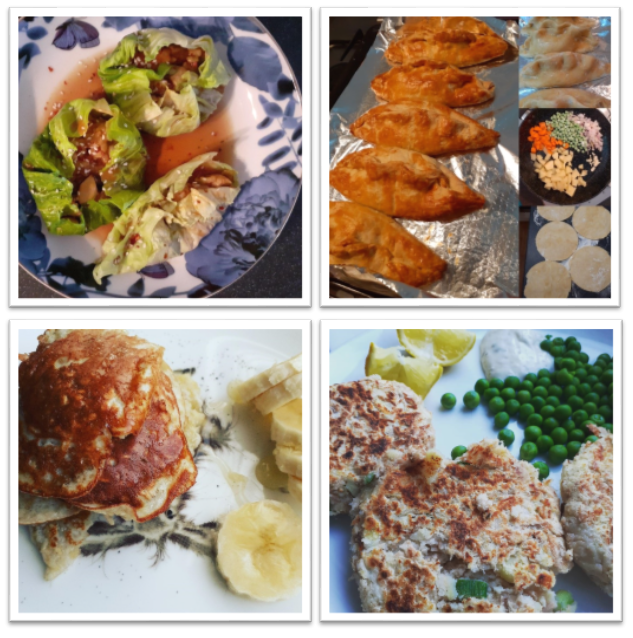 Click on the name for the full recipe
Fishcakes: Fish is a great source of protein. It is recommended we have 2 portions of fish every week, one of which should be oily. You can use many different types of fish in fishcakes. Tinned fish or fresh. I used tuna fishcakes in mine. For a healthier option, you can reduce the butter.
Banana pancakes: Quick, simple, nutritious breakfast to set you up for the day. All you need is one egg, one banana and a handful of oats. You can also add a few drops of vanilla essence if you have any for extra flavour. Mash the banana, break the egg, add oats and mix together. Very simple indeed.
Stuffed cabbage leaves: Don't worry if you don't have all the ingredients. Substitutions can easily be made such as swapping the chestnut for an extra vegetable.
Pasties: If you're up for a challenge you can make your own pastry but bought pastry is just as good. Try adding a few spices if you like a hot pasty, or substitute the meat for vegetables for a vegetarian version (you can also sneak in some extra veggies). Great to feed all those hungry kids if you have a family!
Daily exercise done, now show me the cake!
I made a cake over the weekend, inspired by the Chef Lorraine Pascale. I really fancied a cake with butter icing and decided to get creative with using raspberries and almonds to represent flowers. I had to make a couple of adaptations along the way, I ran out of greaseproof paper so used foil to line cake tins and ran low on butter so used sunflower oil as the fat in the cake. You could even make little mini fairy cakes in a regular bun tin, something fun to try out with children if you have a family.
Fruit and veg, plus 30 eggs!
Last week I tried out my first fruit and vegetable delivery service from Sullivan's Greengrocers in Cardiff. I first heard about Sullivans when editing the Food Cardiff Website. There were 3 different sized options for fruit and vegetable orders: Small, Medium or Large Box. I opted for the medium box and selected a crate of 30 eggs. Yes, 30 eggs! I have been thinking of lots of ways to use eggs in recipes, and have been finding a batch of pancakes with fresh fruit is a great kick start to the day.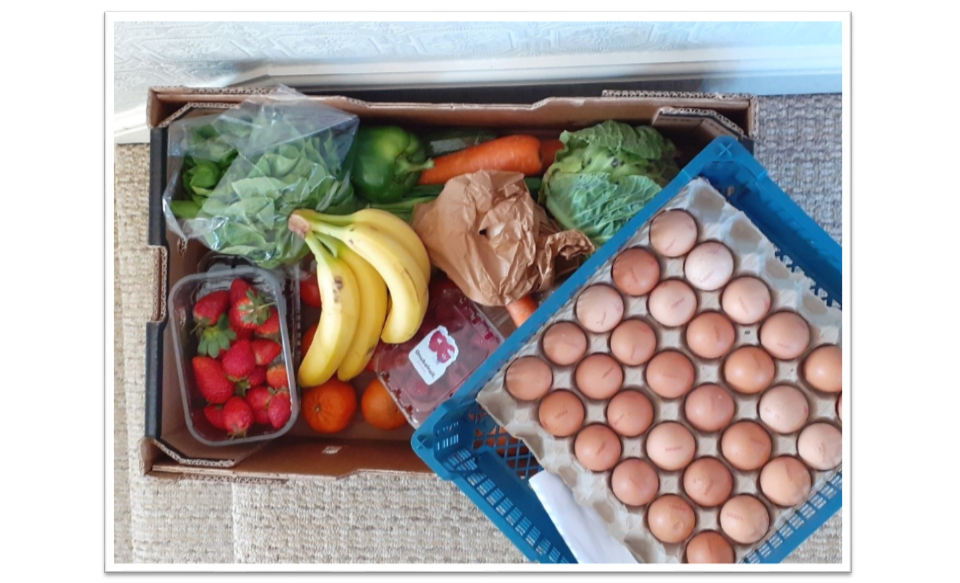 My freezer is absolutely full with the amount of cooking I have been doing. One positive that has come out of this lockdown is the volume of recipe testing going on in my kitchen at the moment. I have always enjoyed cooking, but being confined to not leave the house for only essential shopping and exercise I find myself doing much more cooking than I would normally.
Do you have a #GoodFoodCardiff story? Submit your story here.