Introducing #GoodFoodCardiff stories! Since launching #GoodFoodCardiff to celebrate the positive things happening around food during this pandemic, we've been overwhelmed with the response and wanted to share some of the stories here.
First up is Ahmed Ali, who has been distributing food parcels and hot meals through the Al-Ikhlas Centre.
#GoodFoodStories: Ahmed Ali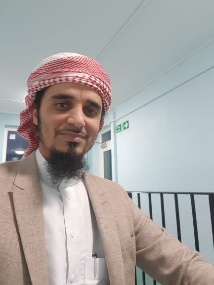 I am the Imam at Al-Ikhlas Centre, and I live in Butetown.  I have been the Imam for the past 7 years, during this time I have seen the Centre grow in both space and the services that we are able to offer.
My role covers many aspects, such as the leader of the prayers and spiritual programmes, running the youth club and offering counselling and advice to our community.
Al-Ikhlas Centre was established in February 2013, on Broadway, Cardiff to serve the needs of the local community. Before lockdown, the centre provided the community with: a youth club, ladies tea morning, weekly foodbank, educational classes, social events such as Eid parties, BBQs, and picnics, weekly meals, daily meals in Ramadan, community activities e.g. football tournaments and fun days, national events such as "Visit My Mosque Day", and First Aid training. This is all in addition to the five daily prayers and a community space for all the locals in the area.
Our Centre is very close to a local refugee discharge centre and we work hard to aid them in building a home here in Cardiff.  We are able to provide them with a sense of community and belonging.
Foodbank@Al-Ikhlas
One of our more demanding projects is Foodbank@Al-Ikhlas – this has been open for 9 months. We have handed out over 1000 vouchers and partnered with a number of charities that deal with surplus food supplies from local supermarkets to redistribute them to those in need. These include Fareshare Cymru, Neighbourly, Growing Hope Project, TNL Community Fund, Morrisons and Saracens RFC.
To date we have collected and redistributed 4000kg of surplus food, equivalent to 9000 meals.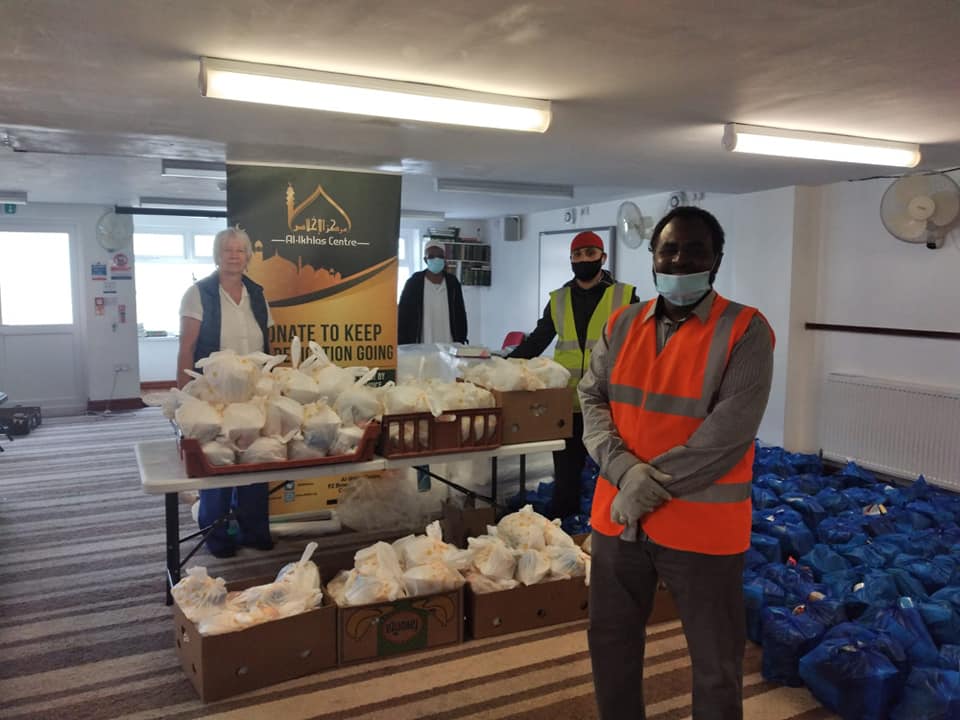 Taking care of the community in lockdown
Since the lockdown began we have altered the services we provide to help those who are struggling, to include:
Weekly foodbank session – with social distancing measures in place
Food Parcel delivery to over 60s isolating, those with underlying health conditions and those on low/no income.
Assistance with shopping
Prescription collection/delivery
Hot meals (Iftar meals provision during Ramadan). During the month of Ramadan we provided 150 hot evening meals to our local community, the meals were collected daily from our centre.
The demand has been overwhelming. In one week we served over 200 food parcels, 750 hot meals including deliveries, and helped with shopping and prescription collection. Through the foodbank we are able to help people increase their disposable income, preventing them from becoming destitute. Our aim is to improve the quality of life and ease the difficulties of some of our community members during their period of hardship and poverty.
Can you support?
Working out how best to take care of our community has been challenging during these difficult times. We could not have done it without those who have supported our work but we are still in need of financial aid to keep these projects running. Community Centres are closed due to the COVID-19 pandemic. This has had a huge impact on our income to cover our basic utility bills, rent and to keep our programmes running. We are raising money for Al-Ikhlas Centre and your contribution will make an impact, whether you donate a little or a lot. Anything helps. Thank you for your support.
To make a one-off donation please donate via our Facebook page.
https://www.facebook.com/1800439093608246/posts/2634725310179616/
Do you have a #GoodFoodCardiff story to tell? Submit it here.