Community groups, gardens, neighbourhoods, markets and social enterprises are coming together this month to create a new covid-safe festival of food and growing.
The Good Food Cardiff Autumn Festival will be a month-long programme of physically-distanced and virtual events which is aiming to involve thousands of people in growing, cooking and sharing food throughout the city.
The Festival runs from 12 September to 18 October, culminating in celebrations around World Food Day on 16 October.
Free Food Cardiff toolkit
Anyone in the city can host their own event as part of the festival and a free Event toolkit is available to help with event planning, promotion and covid safety measures. Events will be listed at www.foodcardiff.com and on social media with #goodfoodcardiff.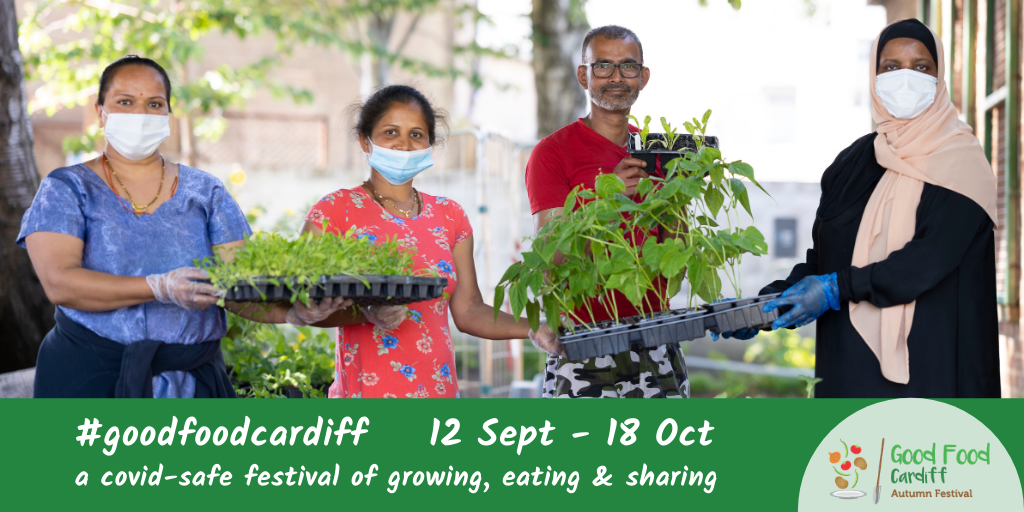 Food Cardiff has launched the festival to build on the success of this summer's Cardiff Growing Together programme which saw more than 14,000 plants, seeds and growing kits being distributed during lockdown to encourage people to grow their own vegetables.
Pearl Costello is the festival organiser and Sustainable Food Cities co-ordinator at Food Cardiff. She explained:
"The problems of food insecurity, loneliness and isolation have been exacerbated by Covid-19 so we are continuing our work to bring communities together around growing, cooking and sharing food.
"Too many people in Cardiff are struggling to get access to the food they need. Growing your own food at home is a great way to inspire an interest in cooking, to encourage families to be more adventurous in what they eat and, of course, to provide low cost produce to supplement the weekly shop.
"The Festival is also aiming to tackle the problems of loneliness and isolation. Community growing is a great way to meet new people, learn new skills and make lasting friendships in the local area," she said.
A covid-safe festival of growing, eating and sharing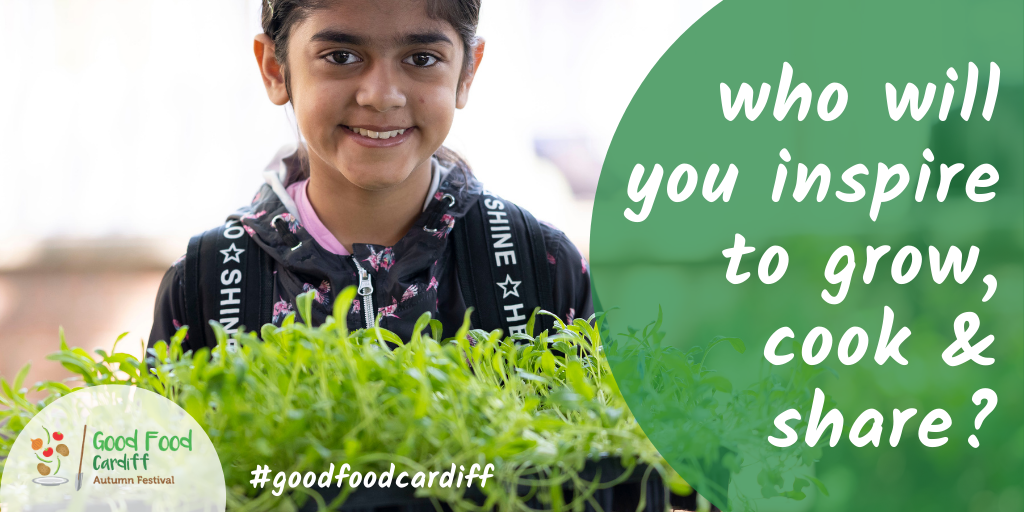 The Festival kicks off with the St Fagans Food Festival on 12-13 September – a new digital version of the annual event which will include online cook-along recipes, workshops to help with everything from gardening to reducing food waste and virtual produce markets. Other local food festivals happening as part of the programme, include the Dusty Forge Centre in Ely on 10 October in partnership with Grow Cardiff.
In Cardiff Bay, the Wales Millennium Centre is hosting a day of mini banquets on 20 September with entertainment from Butetown Carnival and in Riverside, the South Riverside Community Development Centre is planning a community picnic in the park.
Online events are a significant part of the programme, with Green Squirrel hosting virtual grow-along on 14 October on the theme of harvest. They will be looking at ways to use and preserve what's been grown and sharing tips and tricks for seed saving. At the end of the festival on the weekend of 17 October, they are also running a plant give-away with Bute Park Nurseries including winter crops such as onions, spinach, broad beans and peas.
Also taking part are organisations across the city, including ACE in Caerau & Ely, Global Gardens in Cathays, Cardiff Salad Garden in Bute Park, Riverside farmers' markets in Rhiwbina, Roath and Riverside, The Boneyard in Canton, Edible Cardiff, EggSeeds and Cardiff Council
World Food Day
The month culminates with the international World Food Day celebrations. Food Cardiff is encouraging groups to celebrate World Food Day by supporting the Soil Association's Food For Life Get Togethers – a national campaign to bring people together through the power of good food.

Pearl continued:
"The festival will also be an opportunity to celebrate all of the fantastic work that community groups have done to keep the city fed and to bring us together through lockdown.
"By making people more aware of the groups and support available in their local area, and providing opportunities to connect with their neighbours we can also help to build more resilient communities throughout the city," she said.
Event registration is online here.