Carol Adams is the Director of Food Adventure Social Enterprise Limited, and the founder of Back To Our Roots; a project which teaches people in Wales how to grow vegetables such as okra and callaloo.
In our latest blog post, Carol tells us why this was important to her…
"I am the founder of a project called Back To Our Roots: Growing and Sharing Without Borders, which came about as a result of my membership to the Soil Association's, My Food Community programme. We'd had an in-person session in Birmingham and by chance, I was sitting at a table with a gentleman from Cameroon. He showed me some photos of the vegetables that he was growing from Cameroon – in Birmingham – and I thought to myself, "Well, why can't we do this in Cardiff?"
There are shops in Cardiff that sell Afro-Caribbean vegetables in South Wales, but they're not all over the place. For example, I have to drive 30 minutes to get to such a shop. Then I thought, "Gee, you know, I'm a climate activist, driving in to get my imported okra. Let's see what I can do as an activist and someone who's concerned about lowering my impact on the climate crisis."
The other reason I wanted to do this was affordability. Imported vegetables, especially Afro-Caribbean ones, are really expensive. And the more I interacted with people in the Food Cardiff network and other networks in Cardiff, the more I realised there is an increased desire for people from the global majority to grow vegetables from their culture. I knew some of them could grow here. I also knew that people were concerned about the cost and the climate. That's how the Back To Our Roots was born.
At our in-person sessions, many of the participants have never grown anything in the UK before. So, every other month, we get together and we look at where we are in the growing season. We started with sowing seeds, then it was potting on. Today, we have members from the Kushinga Garden sharing info about creating community gardens, what you might want to look at in planning them, and what they did. We're also at that time of the season where we have to think about seed saving. Of course, every year, you can go out and buy seeds, but if you really enjoy the crop that you've grown, instead of spending money on seeds every year, you can save the seeds and keep growing and growing, and most importantly, share the seeds with your community.
Part of our funding came from the Soil Association, and as I talked to people about my idea, more people became interested. I thought, "Oh my goodness, I don't want to limit the numbers." So, I got in touch with Food Cardiff, and they signposted me to a grant that could help, and fortunately, I was awarded the grant so that I could increase my numbers.
It's really important for me to be a part of the Good Food Movement in Cardiff because I feel that good food really needs to be affordable and accessible to everyone, fair to everyone and the people who grow them. If that's what I believe, I can't just be a bystander in the debate and just go around to people and say, "Well, this is what I believe in." Projects like this are about finding ways to put things into action, and that's really what I'm about. If I see a need, I want to take action, and I think Food Cardiff is a network of wonderful people looking at the food system through various eyes.
If we all get around the table, we can make a difference."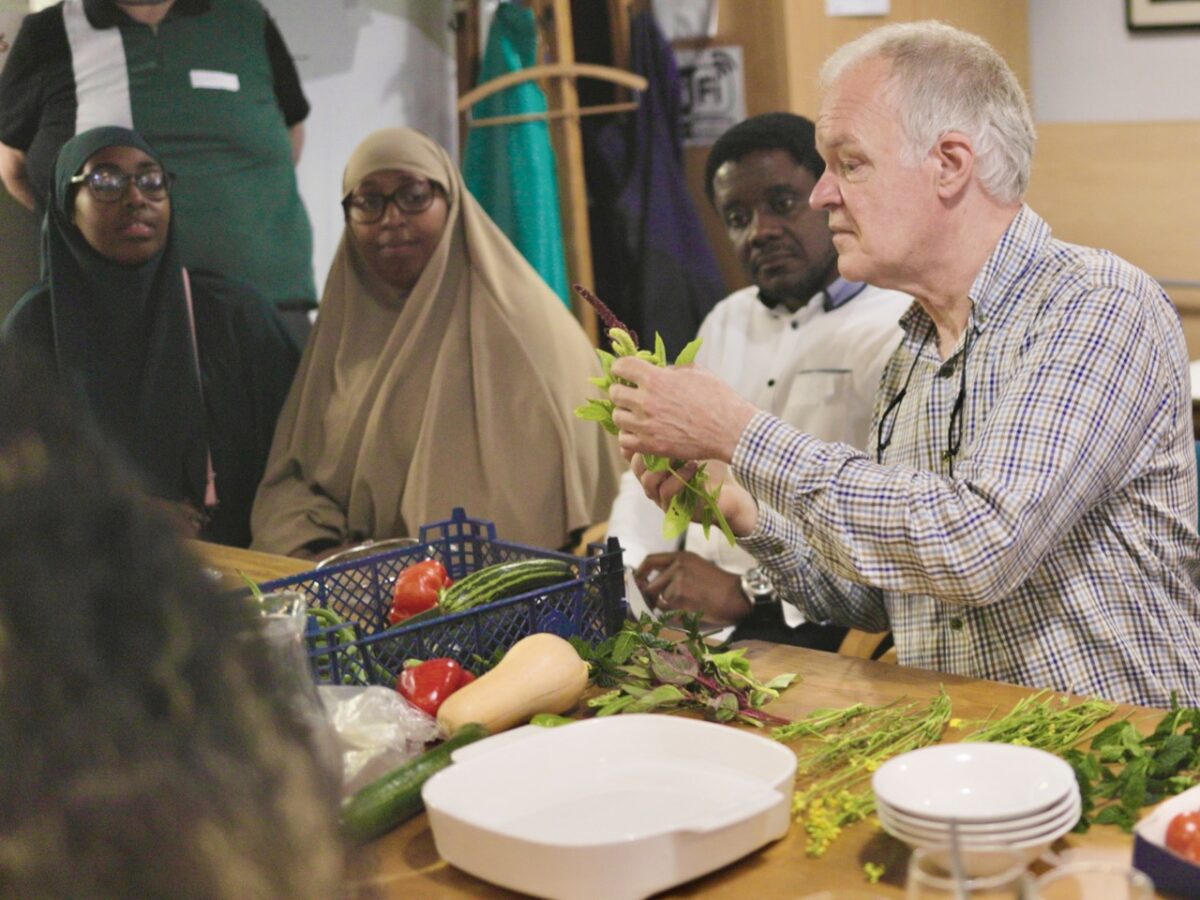 Carol is also hosting a UK-wide 'back to our roots' network via The Soil Association via My Food Community. This is a space where people across the UK can share resources and knowledge on growing global vegetables.
To find out more, visit https://my-food-community.circle.so/c/back-to-our-roots-network/