Share your experiments in the kitchen using hashtag #GoodFoodCardiff and follow for tips and inspiration!
Eating well and keeping well during Covid 19
Eating a healthy balanced diet is important part of maintaining good health. It can help you feel good and help you to maintain a healthy weight, as well as making sure that you have all the nutrients you need to stay healthy.
Having a healthy diet means eating a wide variety of foods in the right proportions and consuming the right amount of food and drink to achieve and maintain a healthy body weight.
The Eatwell Guide illustrates a healthy, balanced diet.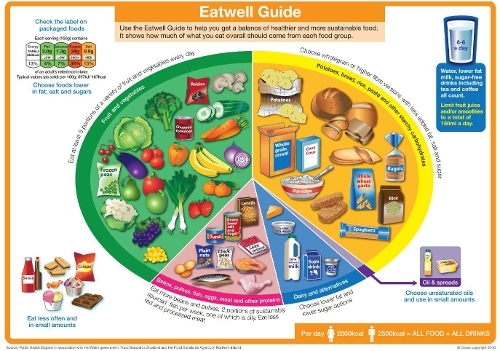 The basic principles of the guide are to:
Eat at least 5 portions of a variety of fruit and vegetables every day.
Eat some beans, pulses, fish, eggs, meat and other proteins (including 2 portions of fish every week, one of which should be oily, have some dairy or dairy alternatives (such as soya drinks), choosing lower fat and lower sugar options.
Base your meals around potatoes, bread, rice, pasta and other starchy carbohydrates; choosing wholegrain versions where possible.
Drink regularly and keep your fluid levels up. Having regular drinks throughout the day will help stay hydrated. Women should be drinking 1.6 litres of fluid and men 2 litres of fluid a day. Limit fruit juice and/or smoothies to a total of 150ml per day.
As well as eating a balanced and nutritious diet, we need to remember that keeping active is another way to maintain health and strength. Physical activity can help manage stress, improve your immune system and improve energy levels.
For more information please see this guide from NHS Wales.
Cooking with limited equipment
Cooking tasty food that is good for us is perfectly possible when eating on a budget, even if cooking facilities are limited to just a microwave.
Cooking at home also saves money, compared to buying takeaways or pre-prepared ready meals. We have included a selection of budget-friendly recipe ideas that use limited equipment which can be accessed here.
Try them out and give them a go!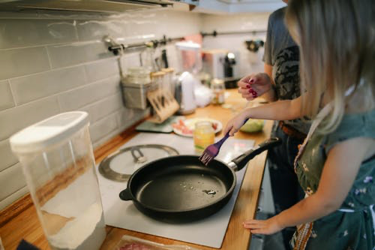 Reducing waste/storing food
Here are some great ways to reduce food waste and make the most of what you have at home:
Plan your meals
Planning dishes you want to make or ingredients that you think you will need helps reduce your shopping time and the potential to waste food.Plan some recipes at the start of the week based on what you already have in your cupboards, then work out what else you need, and think about whether you can use the same ingredients in different meals.
Use your tins
Don't be afraid to use tinned or frozen foods in your meals. Frozen and tinned fruit and vegetables are still nutritious and are usually much cheaper. They can also be simpler to prepare and have a much longer shelf life.
Make the most of your freezer
This is especially handy if you are only cooking for one or two. Batch cooking meals and popping some in the freezer for another day is an economic way to cook, and saves you having to start from scratch every time. Chillies, soups, curries and stews work really well as batch cooked meals.Some tips for safely freezing food at home can be accessed here.
Understand your labels
'Best Before' dates appear on a wide range of frozen, dried, tinned and other foods. Best before dates are about the potential quality of the food item, not safety.However, if a food item has passed its 'use by date' you should not consume it, even if it looks and smells fine. This is because using it after this date could put your health at risk.
Get creative with leftovers
The Love Food Hate Waste website has some brilliant recipes which can help you cut down on food waste and turn your leftovers and food scraps into something delicious. Access Richard Shaw video tutorials for some recipe ideas. Richard is a home economist that runs 'Cooking Together'
Store food safely
Did you know that potatoes should be stored in bag and in a dark cupboard away from strong smelling foods? Or that mayonnaise belongs in the fridge not in the store cupboard? For lots of advice on how to store food properly to make it last longer, visit the Love Food Hate Waste website – they have a handy A-Z guide to storing common foods which you can access here.
Useful resources