3rd April 2020
A new volunteer led hub started on Monday 30th March to provide free food and drink to NHS workers at UHW Cardiff. The initiative is being led by Kasim Ali,  founder of Waterloo Tea, in partnership with the Cardiff & Vale Health Charity and Cardiff & Vale University Health Board. The aim is to provide somewhere close to the hospital where NHS workers can get some respite and a healthy nutritious meal. All food is being distributed from the Heath Sports and Social Club Cardiff to streamline delivery of food to our NHS frontliners.
The initiative has exceeded the initial £25 target having raised over £29k in six days, however in order to maintain the delivery of nutritious meals over the next 12 weeks they need to raise a lot more to pay for supplies, the new target set is £100k to deliver 800 meals a day.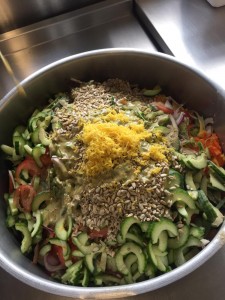 Kasim Ali said: "Times are already very challenging and are likely to get worse. We all depend on NHS workers to care for us, our families, friends and colleagues. Through this project we aim to make a contribution to looking after those NHS staff on whom we rely so heavily. Whether you are a supplier, caterer, business or individual we would be very grateful for your help and support."
This is not a Waterloo Tea Café; Kas and team will be getting things set-up and started and then act as a hub for people and businesses to get involved. A proportion of the meals are being put aside specifically for staff working on COVID-19 wards, and the plan is to do the same for those on ICU and maternity wards. Waterloo Tea staff are volunteering for this project and will do all they can to support the hospital, but they can't do it alone and need as much help as possible. An initial target of £25,000 was set, to put it in perspective, if the hub serves 500 people a day, that equates to 3,500 meals per week and will cost around £10,500 per week, therefore this has now increased to £100,000.
22 businesses have already pledged their support, with more and more getting in touch daily.
How you ca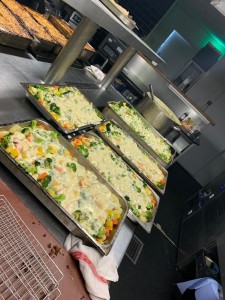 n help:
1)     Suppliers
Ingredients for our chefs to cook with
Disposables/take away boxes and coffee cups (ideally compostable or recyclable)
2)     Caterers
Prepared meals we can deliver to the hospital for healthcare workers to eat something  healthy and nutritious.
We can contribute to the cost of ingredients from our fundraising.
3)     Businesses & Individuals
Cash donations for purchasing essential items including ingredients, drinks, disposables.
Contact Kasim to support.
You can see regular updates on the Go Fund Me , as well as the newly launched Twitter account.